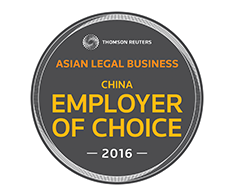 Challenging work and a top-notch client base are among the reasons cited by Deacons employees in 2016's survey.
Asian Legal Business (ALB) Employer of Choice 2016 survey was compiled taking into account responses from thousands of law firm employees across Asia, ranging from managing partners to business services and secretarial staff, as well as market knowledge. The survey was open in the months of February and March, and law firms have been ranked on the basis of job satisfaction, remuneration, work-life balance, career prospects, mentorship, job security and other aspects, with respondents being asked to submit their responses anonymously to help maintain fairness and objectivity.
In the survey results, a Deacons' partner praised the "challenging work and the top-notch client base."
Deacons is proud to have been chosen as an "Employer of Choice" for 2016, making this the fifth year running we have been selected. Last year's survey highlighted career development, impressive variety of international clients and work life balance as among the reasons cited that make Deacons an attractive workplace.
Please click here for the survey.